We're back! This year, Bill and I spent two months at Dickinson Island in Ontario, an isolated bit of rock (one acre) in the middle of Blackwater Lake. It's pretty much off the grid: no electricity, no plumbing, no running water. We have propane power for cooking and refrigeration, and a generator, used mostly for charging power tool batteries. This year, Bill installed a water pump to bring up lake water to the house for washing, so we didn't have to do the "Jack and Jill" thing with buckets. Net result: Cleaner clothes. We had plenty of water to do a wash without heavy hauling. We avoid doing laundry in the lake for environmental reasons. Can you even imagine two months without cell phone or internet? Priorities change.
We brought piles of books with us. More about that as I unfold bits from my island journal in future posts. In the silence and solitude, I spend more than the usual time reading, reflecting, and writing. I also like to paddle around in my yellow kayak. We lose track of time and lose touch with "the world." Somehow it manages to go on without us.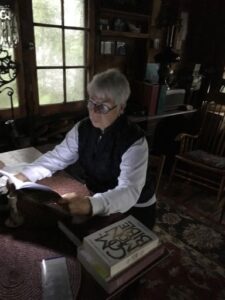 Here's one new poem from the forthcoming (in due time) collection from this beautiful season of enjoyment on the island.
SEPTEMBER

It was a place where the days would
go by and surprise anyone
that they were over.–Eudora Welty

Fog and woodsmoke mingle in the trees
around the cottage. Morning drips away,
tick-ticking on the shingles, and the gray
light barely alters in degrees
of darkness hour by hour. The embers tease
reluctant flame from damp logs that convey
reluctant heat to warm the disarray
of books and coffee cups, of life at ease.
This voluntary isolation seems
a guilty pleasure–time away from time,
eternity embodied in a place
with clarity that comforts and redeems,
while earth evolves, mysterious and sublime,
and I surrender to its brief embrace


Barbara Loots