Can't help it. The current political climate, not to mention the actual climate (hurricanes and other evidence that global warming–yes, tell it like it is–has resumed its inevitable progress) are both contributing to a Dark Cloud in my mind. This is a harsh thing for a stubborn optimist like me to admit. So I've taken a few measures to encourage the sunshine of my usual disposition. This post is approved by Bob the Cat.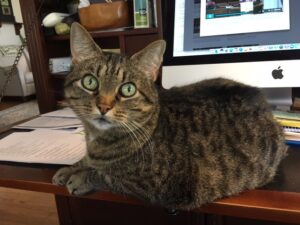 –Continue daily journaling and poetry reading, the way I did on the island, in the early morning before anything else.
–Take a daily walk, and in general, MOVE AROUND. Sitting in front of a screen? Not so much.
–Avoid news overdose. Limit the reading of headlines, opinion columns, and fast-breaking bulletins.
–Eat good (i.e. healthful) food.
–Give self permission to just sit and read a book. Or watch Netflix.
Coming back to "civilization," I became aware immediately of how many obligations and commitments I've made that need attention week in and week out. I'm going to reduce that. I'd like my time to be more available to people and less taken up with organizational tasks. Does that make sense?
Finally, under brain-saving measures:
–Write more, including this Blog.
Poem removed until further notice. Wait for it!